MindX Blood Tests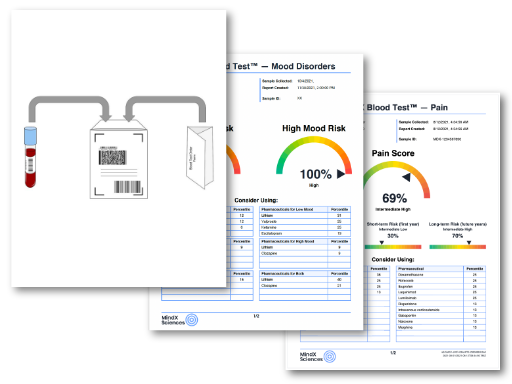 For mood disorders (depression/bipolar), suicidality risk, stress (PTSD), pain, memory (Alzheimer's), and longevity.
The tests can help clinicians match their patients to the right medications and nutraceuticals, as well as objectively assess disease severity, and future risk.
Repeating the tests can help monitor response to treatment. As part of routine annual exams, these blood tests can be used for preventive purposes.
Contact us at info@mindxsciences.com, or place an order here on our site.
Clinicians who order the tests will be provided with kits containing special blood test tubes and mailing envelopes. Patients can go to a designated blood draw center or a hospital laboratory to get their blood drawn. The tubes are mailed to our laboratory. The test is performed in a CLIA setting. The test results are sent by MindX Sciences to the ordering clinician.
The tests are currently self-pay by patients. CPT codes are available for them: suicidality risk- CPT 0293U; pain -CPT 0290U; stress (PTSD) -CPT 0292U; mood disorders (depression/bipolar) -CPT 0291U; memory/Alzheimer's - CPT 0289U; longevity- CPT 0294U. MindX will pursue Medicare and insurance coverage in the near future.